A New Framework for Confidence
Train your brain to switch from nervous to confident.
Your brain is a complex calculator that sometimes makes mistakes.
It is always busy calculating your odds of success. Every time you face a situation with an uncertain outcome, your brain gets to work - whirring under the surface; trying to figure out whether the situation is likely to end well. In other words, your brain is constantly calculating the expected value of the outcomes of the situations you face.
If your brain expects a situation is to end badly, it will let you know in the form of negative emotions. When you get a text from your partner saying, "We need to talk.", it'll make you feel anxious. When you're about walk into an interview for your dream job, it'll make you feel nervous.
Sometimes you can improve your odds of success by acting on the signals that your brain sends you. But sometimes you can't. Some things in life are just out of your control. All you can do is wait and watch.
Life is full of situations of uncertainty. It is useful to think of these situations in the form of a simple 2X2 matrix that follows the axes of Expected Value and Control.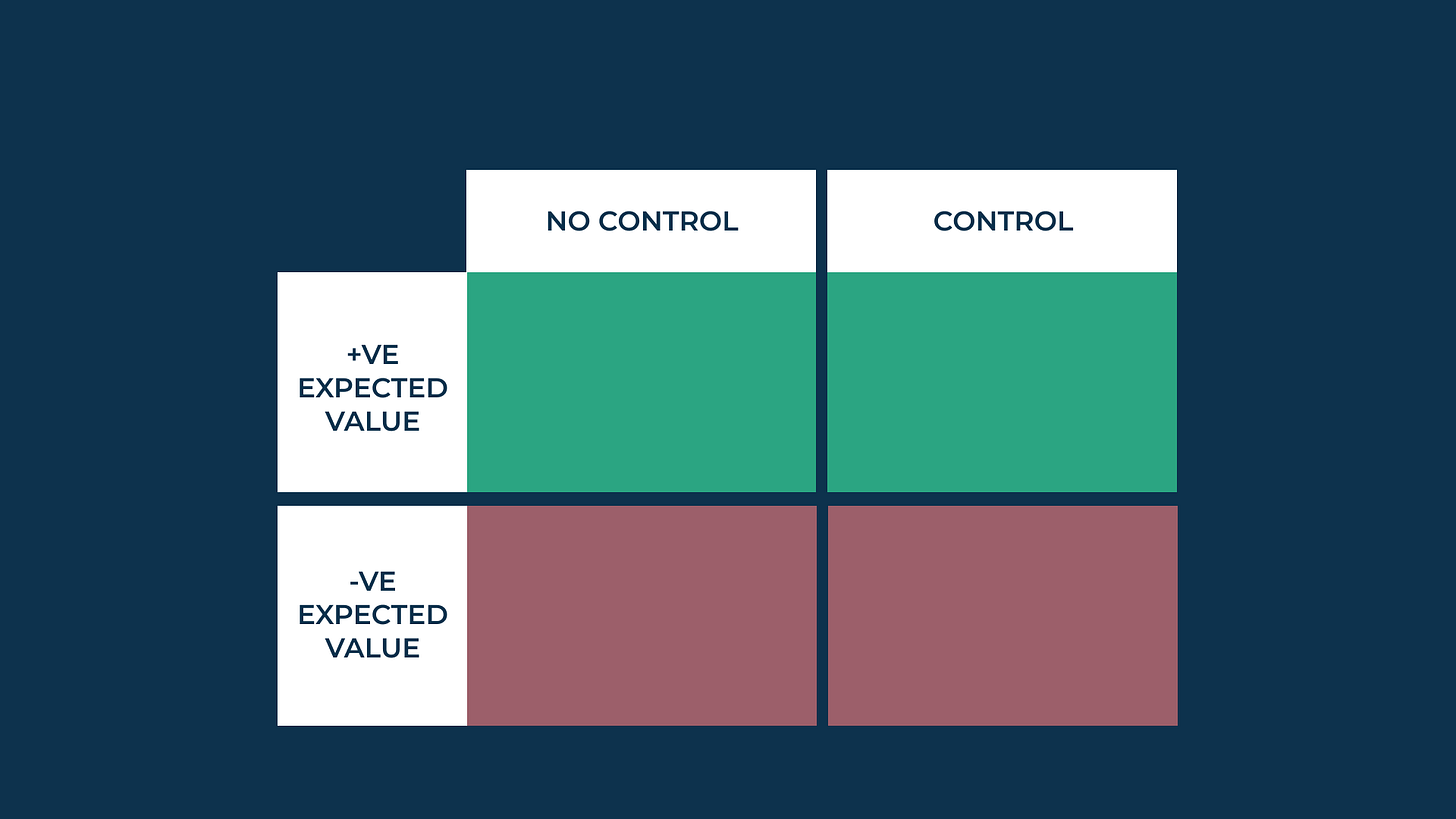 Each of these quadrants has a specific set of emotions attached to it.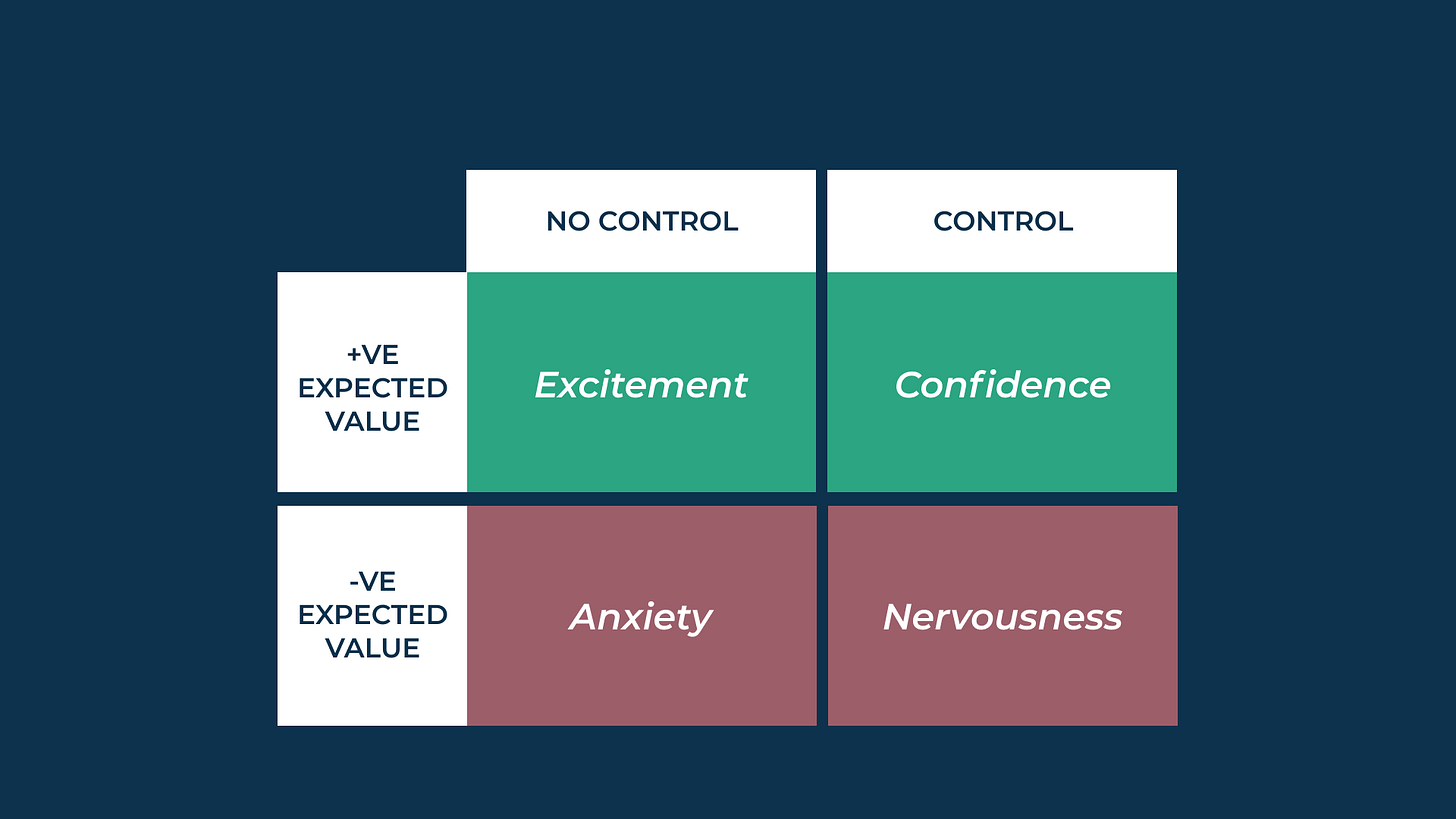 Obviously, the lines between them are blurry, but this classification is broadly true.
Let's look at a few real-world examples of situations in life where these emotions occur.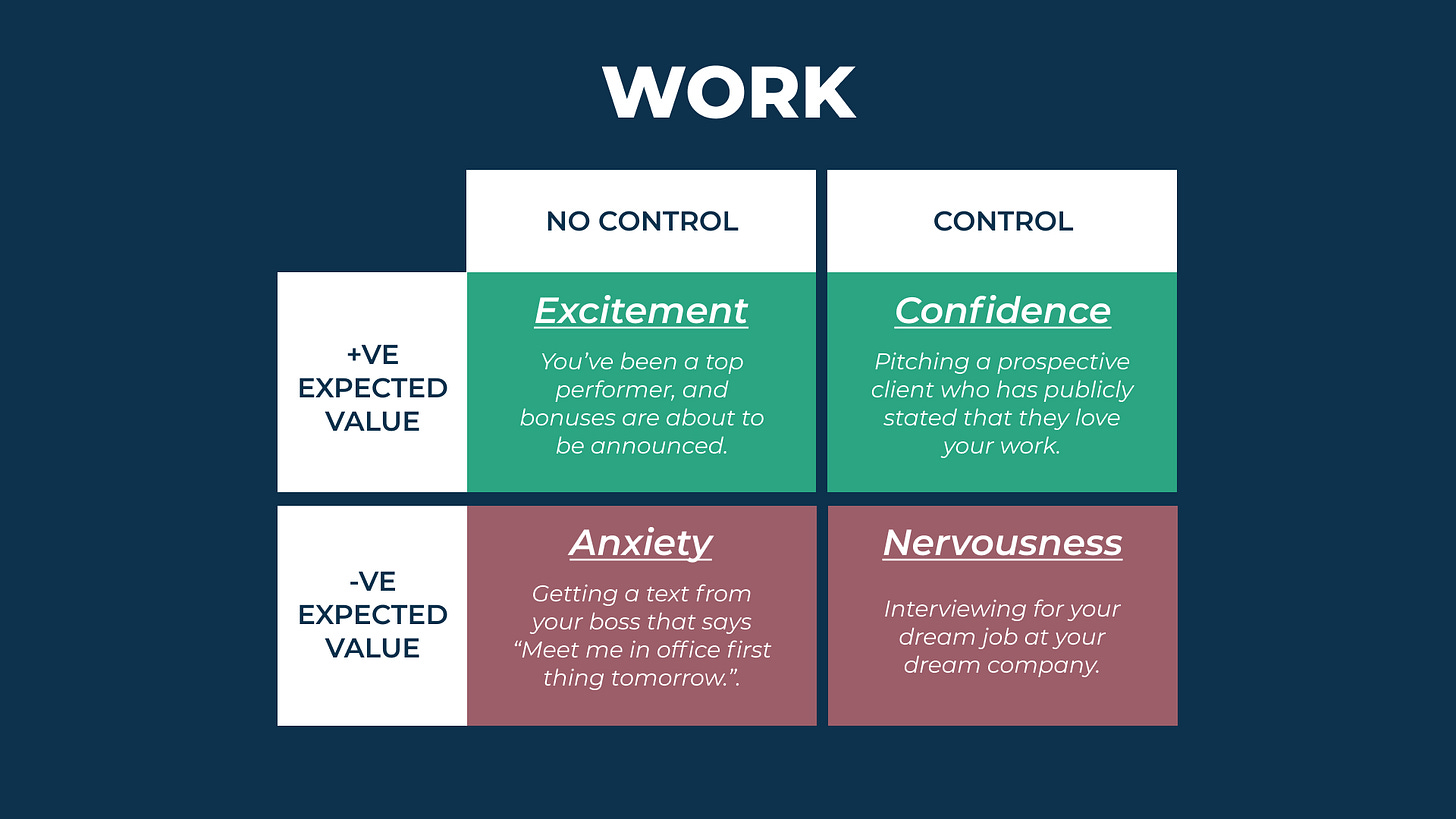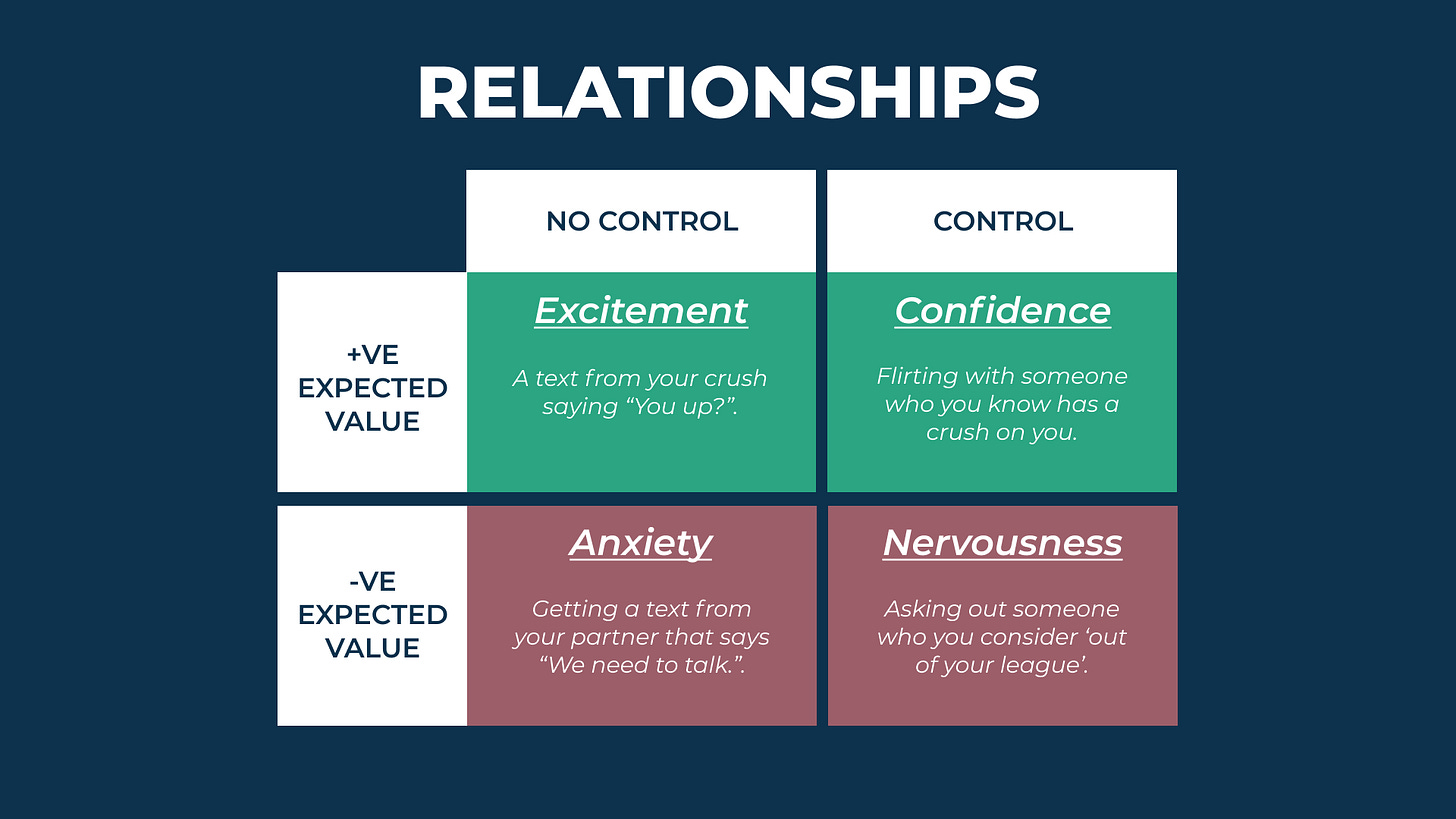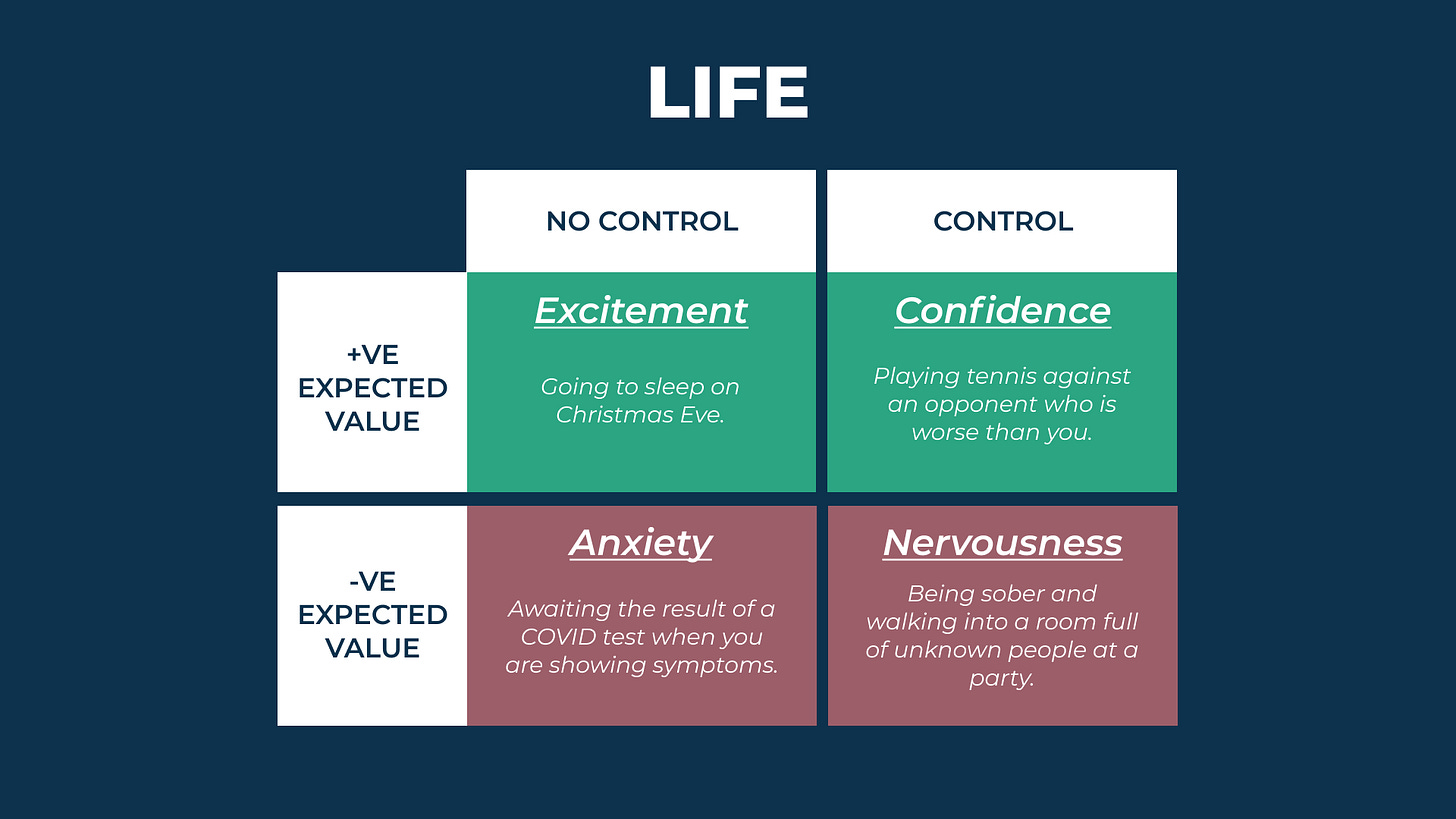 If you've spent a couple of minutes reading the examples above, you get the picture.
It's nearly impossible to move from left to right (No Control → Control), but it is possible to move from the bottom to top (-ve EV → +ve EV). This is because the expected value of a situation is purely a mental construct. If you can convince your brain to anticipate a positive outcome instead of a negative outcome, you can go from being anxiety to excitement, or from nervousness to confidence.
There are better ways of dealing with anxiety than deluding yourself into becoming excited. I will leave that discussion for another day.
However, making the switch from nervousness to confidence can be extremely useful.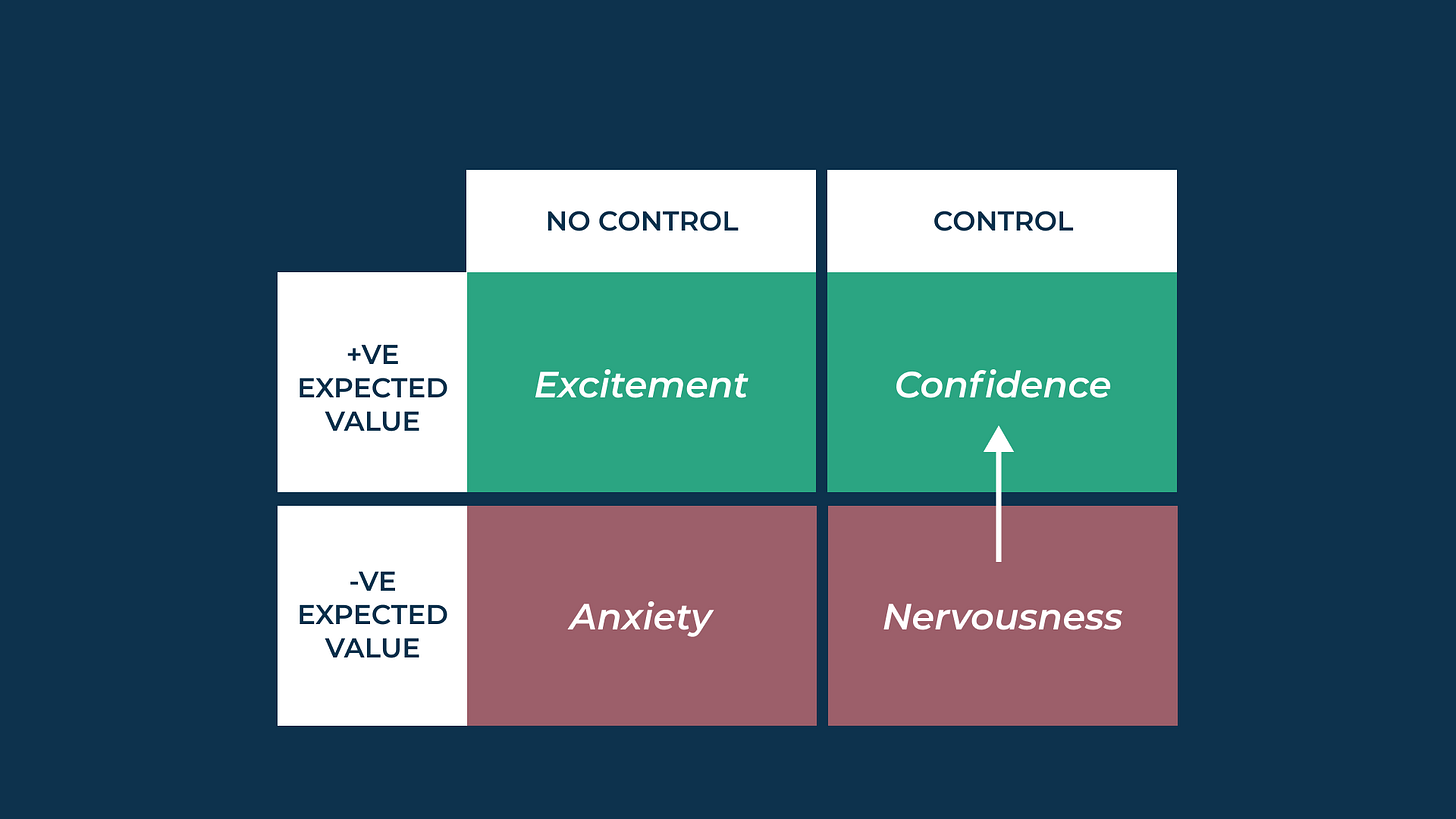 Confidence, Body Language, and Nonverbal Cues
Besides just being a more pleasant internal feeling, confidence impacts your body language and the nonverbal cues you send out. Humans are much better readers of body language and nonverbal cues than you realize. Sending the right nonverbal cues is a significant factor in how others perceive you. If you're nervous during a pitch, people will sense that you don't trust yourself. This will make them less likely to trust you.
Some studies estimate that over 70% of communication is nonverbal - facial expressions, posture, eye contact, tone, and body language play a massive role in determining your impact during an interaction. Most of these cues are subconsciously controlled. The best way to change them is to alter your subconscious thoughts. To believe that you are good enough. This is the reason so many self-help gurus keep telling you to believe in yourself before you expect others to believe in you.
Becoming more confident
What if you're finding it difficult to believe in yourself? Where do you start? How do you become a more confident person?
Here are four strategies to make the switch from nervousness to confidence:
Repetition

Repetition creates competence by strengthening the neural connections that are responsible for performing a particular task. Competence, in turn, builds confidence. If you are nervous about playing a guitar solo live, practice it till you can play it with your eyes closed. Then watch yourself feel confident on stage.

Visualization

Visualize the best possible outcome of an event. Let's say you're about to interview for your dream job. You've prepared as well as you could have, but you're still nervous the night before the big day. Spend some time visualizing the event from start to finish. Reduce the situation's novelty by imagining every detail, from lacing your shoes to acing the interview and accepting the job offer. The lines between reality and your imagination will begin to blur in your brain, and you will start to feel more confident.

Detachment

Fair warning - this is a bit of a hippie woo-woo thing to try, but if you manage to pull it off, it'll serve you well.

Imagine yourself holding a remote that controls your every move on Earth. You are not yourself; you are a creature controlling yourself. Your life is a video game, and the controller is in your hand. Your goal is to try and maximize the result for your character in the game. This technique will help you focus entirely on what you control and not on a situation's outcome. You will not judge yourself or feel nervous about how things will turn out; you will just feel confident that you are making the right moves.

Confidence triggers

Creating triggers for mental states is a technique popularized by Josh Waitzkin in his book 'The Art of Learning' in which he explains how to create triggers to get into the zone. This technique can be replicated for creating confidence triggers as well.

Find times in your life when you feel incredibly confident and build a routine or a trigger before those times occur. For example, if you're extremely confident when you go to the gym because you're the fittest person there, create a routine before you go to the gym each day. Listen to a particular song on your drive to the gym every morning. Within a month, your brain will start to associate that song with a feeling of confidence.

The next time you need to go into a meeting where you feel nervous, listen to that song. Your brain will be triggered into creating a sense of confidence.
Confidence is an underrated trait. Fortunately, it is within your control.
Do what you can to become a more confident person and maximize your chances of getting what you want out of life. Once you get that wheel rolling, positive feedback loops will kick in.
You will be shocked at what you're capable of.
Start today. You got this.
---
Thanks for making it to the end of the first issue of Innings. The next one will be out in a couple of weeks. I hope you enjoyed this short read, and I hope you're looking forward to more of the same.
Until next time.
Cheers!
If you like content on Psychology, Philosophy, and Life-Improvement, you're welcome to subscribe.